Bernstein to retire from Manchester
Latest people news from Local Transport Today 717
3 Mar 2017 (provided by Local Transport Today)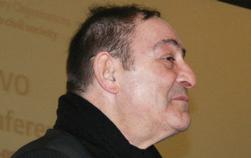 Manchester City Council's chief executive Sir Howard Bernstein retires this month. Bernstein has been closely involved in Greater Manchester's recent governance reforms – the formation of a mayoral combined authority – and its major transport investment programme. Graham Stringer, the Labour MP for Blackley and Broughton, paid tribute this week to Bernstein's role in persuading then Chancellor George Osborne to include  bus franchising in the Greater Manchester devolution agreement of November 2014, a decision that prompted the Government's Bus Services Bill. 
Barclay leads West Coast negotiation
The DfT has appointed former Merseytravel director of resources Jim Barclay as lead negotiator for the West Coast franchise continuation award. Barclay was Merseytravel's director of resources from 2004 to 2012 and interim chief executive/director general in 2012. Since then he has run his own consultancy, Jim Barclay Associates Ltd.
Albanese sets up consultancy
Luke Albanese has set up Luke Albanese Consultancy, providing urban transport planning, development, procurement and management advice. He was a project director with Mott MacDonald and was Transport for London's programme director for light transit from 2003 to 2009. 
Bridges leads NR Wessex route
Network Rail has appointed Jason Bridges as chief operating officer for its Wessex route. He joins in May from Network Rail Consulting where he is currently operations consultant for the Middle East. Bridges was previously general manager of Sydney Trains in Australia.
Morgan Tucker steps down
Morgan Tucker is standing down as managing director of Morgan Tucker Engineering Consultants, having founded the business in 2005. Steve Hall will take over as managing director, having worked for the firm for 11 years.  
Dunne joins Local Transport Projects
Aimee Dunne has joined consultant Local Transport Projects as a senior highway and traffic engineer. She was a senior transportation engineer at Abley Transportation Consultants in New Zealand.
Briggs takes mobility role at Merrill Lynch 
Martyn Briggs has left his post as industry principal – mobility at business consulting firm Frost & Sullivan to join Bank of America Merrill Lynch in a new mobility research role. 
Tim Larner has left Strata Consultants, which he founded in 2008 after leaving his post as director of the pteg support unit (now the Urban Transport Group). Larner is now managing a project to deliver three semi-detached homes but "remains available for transport projects".