Gilligan is SYPTE's public transport head
Latest people news from Local Transport Today 718
17 Mar 2017 (provided by Local Transport Today)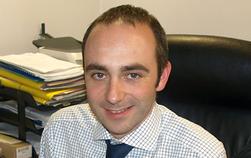 South Yorkshire Passenger Transport Executive has appointed Ben Gilligan as its new director of public transport. Gilligan was managing director of First South Yorkshire and First York from 2013 to 2015. Since then he has run his own consultancy and served as business development director at Flash Forward Consulting.
Vaughan leads Metrolink
Transport for Greater Manchester has appointed Danny Vaughan as head of Metrolink, succeeding Peter Cushing who has overseen delivery of the Metrolink expansion programme, which culminated with the opening of the second city crossing last month (LTT 03 Mar). Vaughan has been Cushing's deputy since joining TfGM in 2013 from Luas, Dublin's light rail network. Cushing will continue working part-time to oversee the change in Metrolink operator from RATP Dev UK Ltd to KeolisAmey in July. 
Yianni quits Transport Catapult
Steve Yianni has left his post as chief executive of the Transport Systems Catapult after three-and-a-half years. Mark Ruddy has taken over as interim chief executive officer, conducting the duties alongside his role as chief operating officer.
Two new Traffic Commissioners named 
Two new traffic commissioners have been appointed by transport secretary Chris Grayling. Tim Blackmore OBE will cover the North East of England, succeeding Kevin Rooney who took over the West of England last October. Simon Evans will cover the North West, taking over from Beverley Bell who steps down this spring. Blackmore currently leads the British Forces Post Office. Evans is currently deputy traffic commissioner for the North West. Both appointments take effect in May. Grayling has also appointed four new deputy traffic commissioners: Mark Hinchliffe in the North East; Jayne Salt in the North West; Laura Thomas in the East of England; and Hugh Olson in Scotland.
Carson to oversee Tyne and Wear Metro
Nexus has appointed Chris Carson as Metro services director to oversee the Tyne and Wear Metro, which transfers from DB Regio to Nexus on 1 April. Carson, 45, has been operations and safety director at DB Regio since February last year, and has 20 years experience in the rail sector. 
Cockburn is Arriva's strategy director
Stuart Cockburn has joined Arriva as strategy and development director from broadcasting and telecoms company Arqiva.
Brereton joins Landor LINKS
Dion Brereton has joined Landor LINKS as exhibition and events manager. He was previously an account manager at events company Marcus Evans in Barcelona, and is a former professional musician, having played drums for the Pasadenas.