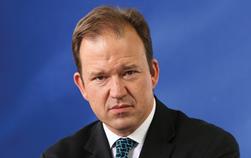 Jesse Norman (pictured), the MP for Hereford and South Herefordshire, has replaced Andrew Jones as a parliamentary under-secretary of state for transport in the post-General Election reshuffle. Jones has been appointed Exchequer Secretary to the Treasury. Lord Callanan is the new parliamentary under-secretary of state for transport in the Lords, replacing Lord Ahmed. The rest of the DfT's ministerial team is: Chris Grayling (secretary of state), John Hayes (minister of state), and Paul Maynard (parliamentary under-secretary of state).
Brown quits TfN for Northern Trains
Transport for the North (TfN) chief executive David Brown will leave in September to become managing director of Arriva Rail North Ltd, operator of the Northern franchise. Brown succeeds Alan Chaplin, who has been acting managing director since February. 
Emmerson starts at ambulance service
Transport for London's former chief operating officer for surface transport, Garrett Emmerson, has begun a new job as chief executive of the London Ambulance Service. 
RHA's Semple to retire
Jack Semple, the Road Haulage Association's director of policy, will retire at the end of July after ten-and-a-half years with the body. Semple will take a sabbatical before re-entering employment. His replacement at the RHA is deputy policy director Duncan Buchanan, who joined from the DfT last year. 
Halewood joins SYSTRA
Phil Halewood has joined the Northern England business unit of SYSTRA Ltd as an associate director. He moves from Celeritas Transport Services Ltd, where he has been involved in bus interchange and rail station devolution projects for Transport for Greater Manchester. 
Robinson leads transport at Liverpool CA
Liam Robinson, the chair of Merseytravel, has been appointed transport portfolio holder for the Liverpool City Region Combined Authority chaired by Labour mayor Steve Rotheram. Rotheram is portfolio holder for policy, finance and resources, digital and innovation. Barrie Grunewald, the leader of St Helens Council, has been appointed portfolio holder for spatial planning, environment and air quality. 
Dixon is Tees Valley CA's transport lead
Bill Dixon, the leader of Darlington Council, has been appointed cabinet member for transport at the Tees Valley Combined Authority, which is chaired by elected mayor Ben Houchen. 
Taylor succeeds Seal-Driver at DriveNow
James Taylor has taken over as managing director of DriveNow UK Ltd following the departure of Joseph Seal-Driver to bike hire firm Ofo UK (LTT 09 Jun). Taylor has worked for DriveNow since 2015, latterly as head of UK marketing.