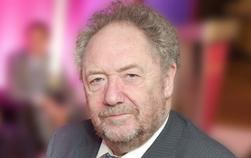 West Midlands Combined Authority Conservative mayor Andy Street has appointed Wolverhampton City Council Labour leader Roger Lawrence (pictured) portfolio lead for transport. Lawrence has been WMCA's transport lead since the CA's establishment last year. Solihull Council's Conservative leader Bob Sleigh is portfolio holder for wellbeing and HS2. Birmingham City Council Labour leader John Clancy is portfolio holder for economic growth. Deborah Cadman has been appointed WMCA's chief executive. She is currently chief executive of Suffolk County Council.
Henkel retires from TfN
John Henkel, executive sponsor for integrated and smart travel at Transport for the North, is retiring. He was previously director of passenger services at West Yorkshire PTE. 
Patel leads interchanges at Ramboll 
Vinny Patel has joined consultant Ramboll as market director of transport interchanges. He was Laing O'Rourke's design and development leader for the rail sector.
Thomas quits NX for Stagecoach
Paul Thomas, managing director of National Express's UK bus division, has left to become managing director for Stagecoach in the east of Scotland. Tom Stables takes over from Thomas at National Express, managing the UK bus business alongside the UK coach business and German rail operations. 
Markides is CIHT's new president
Andreas Markides has taken up the presidency of the Chartered Institution of Highways and Transportation for 2017/18. Markides was a board member of consultant Colin Buchanan for 12 years and chairman from 2009 to 2011. He now runs Markides Associates. Matthew Lugg is the CIHT's senior vice president and next in line to be president. Martin Tugwell, programme director for the England's Economic Heartland strategic alliance, has just been appointed vice president.
Barnes joins SCP?in Manchester
Kim Barnes has joined transport planning and infrastructure design consultant SCP as an associate director. He was general manager of Eamar Engineering Consultancy in Oman.
---
Richard Clarke has joined WSP as an associate director. He was director of his own rail consultant, North Hill Consulting, and a part-time associate with SLC Rail. 
---
Satbir Gill, Hounslow Highways' network manager and principal designer, is the new chair of the London Technical Advisers Group.
---
Martin Whiteley has been appointed chief executive of the Cambridgeshire and Peterborough Combined Authority. Whiteley has been interim chief executive since March and was previously chief executive of Blue Marble Group and managing director of Capita Consulting. Dame Kate Barker will chair an economic commission, which will advise the CA on infrastructure priorities.