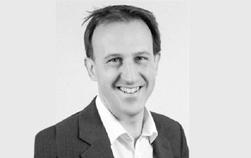 The West of England Combined Authority has appointed Elaine Seagriff as its interim head of transport. Seagriff is seconded from consultant CH2M where she was recently appointed director of transport planning (LTT 15 Sep). She was Transport for London's head of transport policy and strategy until last year.
Bunney joins Regeneris
Jon Bunney (pictured) has joined economics consultancy Regeneris Consulting as an associate director, leading the firm's strategic transport planning and transport economics activities. He was an associate director at SYSTRA.
Konrad is Sustrans England director
Sustrans has appointed Anita Konrad as its national director for England, a new position responsible for strategy across England outside London. She joins on 4 December from Groundwork, where she is director, strategic partnerships and programmes. Matt Winfield has been appointed Sustrans' London director – he has been acting director for more than two years.  
Deegan joins Urban Movement
Brian Deegan has joined consultant Urban Movement as a design engineer. Deegan was a principal technical specialist at Transport for London from 2013 until earlier this year, advising on cycling and the 'healthy streets' agenda. He joined US mobility consultant AltaGO as director – European sector this summer. Deegan is working full-time with Urban Movement but will also work in partnership with AltaGO.
Chick joins Highways England
Highways England has appointed Marcus Chick as a principal transport modeller. He was an associate director at consultant WSP. 
Economides leads Oxon's CAV work
George Economides has joined Oxfordshire County Council as team leader for connected and autonomous vehicles. He was head of strategy for Oxford-based electric and autonomous vehicle developer PrestonEV.  
RDG's O'Beirne leads integrated transport
Craig O'Beirne, the Rail Delivery Group's customer experience strategy owner, has taken on responsibilities for integrated transport, following the departure of Conrad Haigh. 
Sutcliffe is Newcastle road safety officer 
Ruth Sutcliffe has joined Newcastle City Council as a road safety officer following a career break. She was a principal transportation engineer with consultant Cundall from 2011 to 2013.