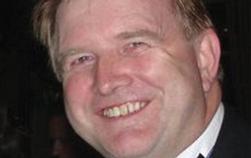 Austin replaces Verster at East West Rail
Peter Austin has been appointed managing director of the East West Railway Company, the Government company developing plans for a new railway from Oxford to Cambridge. Austin succeeds Phil Verster, who has left after just a few months in post to become president and chief executive officer of Toronto public transport agency Metrolinx. Austin was managing director of Transport for London's London Overground Rail Operations Ltd from January 2013 to November 2016 and served as commercial director of rail for the Stagecoach Group from January to July this year. Verster joined the East West Rail Company earlier this year from the ScotRail Alliance, where he had been managing director.   
Shortland is Bedford's highways chief 
Jon Shortland (pictured) has joined Bedford Borough Council as chief officer for planning and highways. He has spent the last ten years in the private sector, as account director for Amey's Bedfordshire contract and latterly at Ringway Jacobs in Central Bedfordshire following TUPE last year. He previously worked for nearly 20 years at Northamptonshire County Council, latterly as head of transport policy, performance and knowledge management.  
McNaughton takes DfT advisory role
Andrew McNaughton is to step down from leading the technical directorate of HS2 Ltd in January, to take up a part-time role as HS2 Ltd's strategic technical advisor, and a wider role advising the DfT and other government departments on wider transport matters. Professor McNaughton will continue to serve as an expert witness for the high-speed rail project, and chair the World High Speed Rail Committee. 
SDG recruits rail expertise
Steer Davies Gleave has recruited two consultants from the rail industry. Helen Waters joins from Arriva UK Trains?as an associate director. Richard Aitken joins as an associate from Keolis, where he was a timetable and resource manager.
Mudhar joins Amey
Amrit Mudhar has joined Amey as a senior transport planner. She was a senior transport planner at M-EC Consulting Development Engineers.
Stuart Kay has been appointed chairman of the Local Government Technical Advisers Group in the North East of England. He is a principal engineer - operational safety at Sweco.
Claire Fleming has left her post as travel plan officer at Swindon Borough Council to become the council's digital process redesigner.
Silka Kennedy-Todd has left Transport for London, where she was head of taxi and private hire stakeholder relations, to go travelling.