Job losses mount as Stagecoach prepares for 'enormous recession'
By Robert Jack
9 Dec 2008 (provided by Transit Magazine), Category: Bus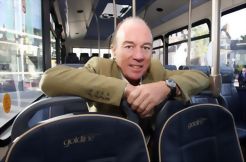 The recession is beginning to make itself felt in the rail industry after Stagecoach followed National Express in announcing that it would be making redundancies.
Announcing its interim results this week, the Perth-based group revealed that it will cut jobs to ensure that its rail business remains competitive in deteriorating economic conditions.
Stagecoach, which owns South West Trains and East Midlands Trains, and has a 49% stake in Virgin West Coast, has not said which jobs it will cut or how many. However, the group is understood to be preparing to make around 300 back office staff redundant. This is likely to be achieved by merging the support service and administration functions of its different train companies.
The situation contrasts with that at the group's UK bus business, which appears to be relatively protected from the effects of an economic slowdown after reporting strong growth.
Brian Souter, chief executive and co-founder of Stagecoach, said: "We think that the Central London employment forecasts that we are seeing will impact the business next year. It's hard to put precise numbers on how many jobs will be affected as a number of key developments in the business will take place in the next two to three months. Profits next year will probably be a bit lower, but not much lower.
"I don't know how deep and bad this is going to get, but I'm not going to sit and crochet blankets and pretend everything is OK. The issue now is that this isn't going to be just a slowdown. It's going to be a thumping enormous recession."
Shares in Stagecoach fell 16.5% to 143.2p on the day that the annoucement was made.
However, the job cuts do not look likely to be limited to Stagecoach. National Express Group has already said that it will make 300 staff redundant at its National Express East Anglia operation (Transit November 21).
Trade unions have responded by putting pressure on the industry not to cut jobs.
Gerry Doherty, leader of the TSSA rail union, said: "We do not want the rail companies to protect profits at the expense of jobs and services. Redundancies should be the last resort, not the first reaction in a downturn."
Meanwhile, the RMT union has told National Express East Anglia that industrial action is "inevitable" if the company attempts to press ahead with plans to cut jobs.
Stagecoach's interim results revealed that revenue from its UK Rail subsidiaries for the six months to October 31, 2008, was up by 50.% to £486.4m (2007: £322.7m) following the addition of the East Midlands franchise to the group's rail portfolio. On a like-for-like basis revenue increased 8.2%. Operating profit was £31.7m (2007: £25.3m), giving a reduced operating margin of 6.5% (2007: 7.8%).
Stagecoach's bus operations in the UK and North America reported impressive organic growth. Souter expects them to continue to perform well through difficult economic conditions.
UK bus revenue was up 11.8% to £410.4m for the period, compared to £367.1m in the previous year. Like-for-like revenue growth was 9.2%. Operating profit was £60.9m (2007: £52.5m), giving an operating margin of 14.8%, compared to 14.3% in 2007.
One encouraging sign for the UK bus business is the continued strong performance of its North American counterpart, despite worsening economic conditions.
Revenue from Stagecoach's North American operations, excluding Megabus.com, for the period was up 3.4% at US$267.7m (2007: US$258.9m), and like-for-like revenue was up by 4.2%. Operating profit excluding Megabus.com was US$38.0m (2007: US$36.2m). This resulted in an increase in the operating margin from 14.0% to 14.2% notwithstanding a US$6.9m increase in fuel costs. Converted to sterling, revenue was £142.3m (2007: £128.6m) and operating profit was £20.2m (2007: £18.0m).
North American Megabus.com operations reported revenue of US$15.4m (2007: US$4.8m) for the six months and an operating loss of US$0.8m (2007: US$2.2m), which included marketing and other start-up costs. This equates to sterling revenue of £8.2m (2007: £2.4m) and an operating loss of £0.4m (2007: £1.1m).
Overall revenue for the group over the six-month period was £1,045.0m (2007: £820.8m). Total operating profit was £119.8m (2007: £100.0m).