Transport Modelling Forum 2009 : Changing Requirements and Challenging Times
10 June 2009 - Chelsea Football Club, London
23 Apr 2009 (provided by Local Transport Today), Category: Modelling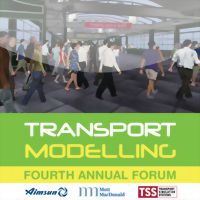 For the 4th Annual Transport Modelling Forum we have chosen the theme 'Changing Requirements and Challenging Times'. We have established an exciting line-up of top-class speakers in the field, who will each deal with one of the many issues facing the transport modelling profession including:


Gavin Gaunt, Head of the NATA refresh at the Department for Transport
Charlene Rohr, Director of Modelling RAND
Dr Denvil Coombe, Principle of the Denvil Coombe Practice
Dr Gerard Whelan the Divisional Director and Steve Lowe, MVA
Prof Andrew Daly University of Leeds
Clare Lindsay, Technical Director and Dr Ian Williams, WSP
Andrew Potter the Divisional Director at Mouchel

Last years Transport Modelling Forum challenged the way in which we view our existing transport systems and their performance. We discussed the need to review the way in which we traditionally carry out modelling.

Are new models required? How do newer models interface with the existing ones, in which we have invested so much in terms of data, methodological development and software?

We cannot ignore the challenges brought by the recession or assume that growth in travel demand is a certainty. Does that mean that forecasted figures in databases like TEMPRO are still credible?

New modes such as high-speed rail at a national scale as well as the carbon challenge provide more problems to solve. Can our existing toolkit provide the answers?


Who should attend?
Local Authority officers and decision-makers
Central and Regional Government
Consultants in all aspects of transport, development and regeneration
Funding organisations in the public and private sector
Transport modelling software developers and vendors
Environmental and economic appraisal specialists
Academics and students
Full Programme and further details can be found at
www.transportmodelling.co.uk
---
Organiser Details

Local Transport Today Ltd, Apollo House, 359 Kennington Lane, London, SE11 5QY
Tel: 0845 270 7965
Fax: 020 7091 7966
Email:
[email protected]
For accounts queries please call 0845 270 7866
Event Date & Venue
Wednesday 10 June 2009, Chelsea Football Club, Stamford Bridge, Fulham Road, London, SW6 1HS
Delegate Rates