Khan tipped to appoint Adonis as transport czar
Latest People News from Local Transport Today 697
13 May 2016 (provided by Local Transport Today), Category: Transportation Planning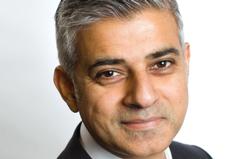 Labour's Sadiq Khan (pictured) has been elected London's new mayor, succeeding Conservative Boris Johnson, who served two terms. Khan served as a transport minister from 2009 to 2010 in the Labour Government. As LTT?closed for press he was expected to name former Labour transport secretary Andrew Adonis as his deputy mayor for transport.
Rees is Bristol's new mayor
Labour's Marvin Rees has been elected Bristol's new mayor, succeeding independent candidate George Ferguson. Ferguson stood for re-election but came second. Sustrans Cymru chief becomes Welsh AM Former Sustrans Cymru national director Lee Waters has been elected to the National Assembly for Wales as the Labour Assembly Member for Llanelli. Waters successfully lobbied the Assembly for the Active Travel (Wales) Act. Labour remains the largest party in the Assembly but does not have an overall majority. The Assembly has yet to select a First Minister.
Wardman is SYSTRA's economics chief
Mark Wardman has been appointed technical director for economics at consultant SYSTRA. He was director of research at the Institute for Transport Studies, University of Leeds and will continue in roles as visiting professor to ITS and the University of Loughborough's Transport Studies Group.
Young joins SCP
South Yorkshire PTE's former director of customer experience and interim director general David Young has been appointed a director of highway and transport consultants SCP, based in the firm's Leeds office.
Rosscraig joins TAS
Elaine Rosscraig has joined the TAS Partnership as an associate management consultant. She was Stagecoach Group's head of customer insight from 2001 to 2015 before joining publisher DC Thomson as insight manager last August.
Wells promoted by Atkins
Laura Wells has been promoted to managing consultant – transport planning at consultant Atkins. She has been a senior transport planner with the consultant since 2013.
Parker is ITP's new managing director
Transport consultant Integrated Transport Planning Ltd (ITP) has announced changes to its senior management with founder Colin Brader moving from managing director to chairman, and Jon Parker promoted from director to managing director. Parker has been a director of ITP since 2004.