Holden leads Cambridge access team
Latest people news from Local Transport Today 705
6 Sep 2016 (provided by Local Transport Today)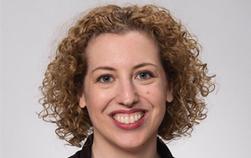 Hilary Holden (pictured) has been appointed to head the new Cambridge Access City Deal team based in the transport & infrastructure policy and funding service at Cambridgeshire County Council. The team will lead work on proposals such as a workplace parking levy and access control schemes (LTT 22 Jul). Holden transferred to Toronto, Canada with consultant Arup six years ago. She left in 2015 to take on a 12-month contract with the City of Toronto as director of transit and sustainable transportation.
RATP Dev chief Perin to retire
François-Xavier Perin, chairman of the executive board at public transport operator RATP Dev, is to retire on 1 January. His replacement will be Laurence Batlle, who is currently executive vice-president of the Africa America business unit and a member of RATP Dev's executive board. Batlle joined RATP Dev in 2007 as chief finance officer. Perin is to join the RATP Dev supervisory board.
Rentzos joins MHC Traffic from SYSTRA
Costi Rentzos has been appointed partner and business development director at data collection specialist MHC Traffic. He joins from consultant SYSTRA where he spent nine years as director for London and the South. 
Rennie leaves TTR for Evolt
Stephen Rennie has joined APT Controls Ltd as business development manager for the Evolt electric vehicle charging point brand in Scotland. Rennie joins from consultant Transport and Travel Research, where he was a principal consultant for alternative fuels. He was the Energy Savings Trust's programme manager for Scottish transport from January 2014 to September 2015.
New MDs for Stagecoach bus operations
Stagecoach has appointed Edward Hodgson managing director for Stagecoach South bus operations from 1 October, succeeding Mike Watson who is now regional director south. Mark Whitelocks, currently operations director, Stagecoach East Scotland, has been appointed managing director, Stagecoach North Scotland, effective from 1 October. He replaces Steve Walker, who was recently appointed managing director Stagecoach North East.
Priestland joins AECOM from WSP
John Priestland has joined consultant AECOM as chief executive, major bids and corporate development, Europe, Middle East, India and Africa. He was previously global strategy and major pursuits director at WSP | Parsons Brinckerhoff and between 2009 and 2015 was on the executive main board of Hyder Consulting, which was bought by Arcadis in 2014.