Rutnam leaves DfT for Home Office
Latest people news from Local Transport Today 719
31 Mar 2017 (provided by Local Transport Today)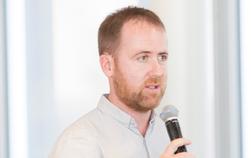 DfT permanent secretary Philip Rutnam is leaving to become permanent secretary at the Home Office. Rutnam moves on 3 April. He joined the DfT as permanent secretary in 2012 from the Department for Business, Innovation and Skills. A civil service competition has been launched to find Rutnam's successor. In the interim, Jonathan Moor, director general of the DfT's resources and strategy group, will take up the position of acting permanent secretary. 
DfT's HS2 director leaves for Oxford Uni
David Prout, the DfT's director general for HS2, is leaving to take up the position of Pro Vice-Chancellor for planning and resources at the University of Oxford. Prout will leave the DfT at the end of June. He has held the HS2 position since 2013.
Smyth leaves CPRE
Ralph Smyth (pictured) is leaving his position as head of infrastructure and legal at the Campaign to Protect Rural England at the end of April. Smyth is undertaking an MBA at Warwick Business School and will continue to conduct some consultancy work for CPRE.
Cairns retires from Tactran
Michael Cairns has retired from his position as strategy manager of Tactran, the Tayside and Central Scotland transport partnership. 
Lewis promoted at Nexus
Huw Lewis has been appointed customer services director at Nexus, the Tyne and Wear Passenger Transport Executive. Lewis was Nexus's corporate manager for customer services and communications. His promotion coincides with Nexus bringing the operation of the Tyne and Wear Metro back in-house from 1 April, following the end of the contract with DB Regio.  
London traffic commission formed
The Centre for London think-tank has appointed a commission on the Future of London's Roads and Streets. Chaired by Sir Malcolm Grant CBE, chair of NHS England, its other members are: Patricia Brown, director, Central; Ellie Cosgrave, lecturer in urban innovation at University College London; Peter Jones OBE, professor of transport and sustainable development, University College London; Frank Kelly, professor of environmental health, Kings College London; Nick Lester-Davis, director, Nick Lester-Davis Consultancy; Tony Meehan, transportation consultancy, practice director, Atkins; David Metz, honorary professor, Centre for Transport Studies, University College London. The commission is supported by Atkins; Canary Wharf Group; Rokos Capital Management LLP; and Thales. It will report in the autumn.