Concessionary Fares 2010
4 November, London
5 Oct 2010 (provided by Local Transport Today), Category: Bus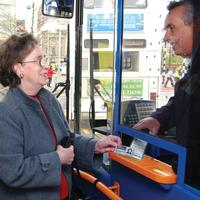 Changes which come into effect in April 2011 will see responsibility for concessionary fare schemes across much of England pass from district councils to county councils. At the same time new reimbursement rates and methodology will be used to pay operators for carrying concessionary pass holders.

Local authorities responsible for managing concessionary fare schemes must publish draft arrangements for their schemes in December, based on new guidance which the DfT is scheduled to issue in October. For some county councils, it will be the first such document they have produced. For unitary authorities and PTEs, it will mean setting out how they intend to apply new reimbursement methods.

As a result, the conference comes at a particularly opportune time.

It will provide a platform for the Department for Transport to explain how to apply new reimbursement policies and explain new administrative arrangements. And it will provide the setting for a panel discussion on what the changes will mean for local authorities and operators.

The conference will also hear from Transport Scotland on how concessionary fare arrangements have worked north of the border and the potential lessons for England. A further presentation will be dedicated to the potential to improve data collection, analysis and reimbursement through use of smartcard technology.

The conference will end with a debate by a panel of experts and the conference delegates on the future of the free concessionary fare scheme and whether further changes are needed to ensure that it can be funded on a long-term, sustainable basis.

Transport Minister Norman Baker has been invited to address the conference as have DfT civil servants to give presentations on the new administrative and reimbursement arrangements.
Confirmed speakers include:
Gordon Hanning, Head of Concessionary Travel and Integrated Ticketing Unit, Transport Scotland
Andrew Meaney, Head of Transport Team, Oxera
Peter Shipp, Chairman, EYMS Group
Andrew Last, Director, Minnerva Ltd
Chris Brown, Managing Director, MCL Consultancy
Jeremy Meal, Projects Director, MVA
Download the
event programme
Delegate rates: