Ciaburro and Campsall join PACTS
Latest people news from Local Transport Today 694
1 Apr 2016 (provided by Landor LINKS), Category: Transportation Planning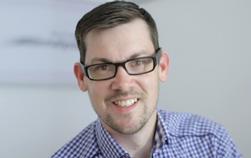 PACTS, the Parliamentary Advisory Council for Transport Safety, has appointed two new trustees and directors: Tony Ciaburro, Northamptonshire County Council's director of environment, development and transport, and Dan Campsall (pictured), marketing and communications director at Road Safety Analysis Ltd. Meanwhile, Kate Harrison, has joined PACTS as a policy officer, leading on engagement with Parliamentarians. She has worked for a number of MPs in a variety of positions.
Barratt leads development impacts at TfL
Michael Barratt has been appointed development impact assessment lead at Transport for London. He was previously a principal engineer at TfL.
Austin relaunches consultancy
Passenger transport consultant John Austin has re-entered the consultancy market, relaunching his firm Austin Analytics. Austin, a specialist in public transport information design and delivery, says additional senior associates will enable the firm to provide a wider service to clients. Visit: www.analytics.co.uk
Hants transport chief resigns
Seán Woodward, Hampshire County Council's cabinet lead member on economy, transport and environment, has stepped down to avoid a conflict of interest over the area's combined authority proposals. Woodward is also the leader of Fareham Borough Council, which is part of the proposed Solent Combined Authority, and which Hampshire County Council leader Roy Perry opposes. The transport brief has been passed to Rob Humby.
Hill is new Transport Catapult chair
Terry Hill has been appointed chairman of the Transport Systems Catapult. Hill, the former chairman of Arup Group, has been a non-executive director of the Catapult since 2013. He succeeds Will Whitehorn, who has been the Catapult's chair since its inception in 2013 and who has just been appointed deputy chairman of Stagecoach Group plc.
David Begg has been appointed a non-executive director of EAMS Group, an asset and safety management specialist that works extensively with transport organisations including London Underground, Stagecoach, Heathrow Airport, Virgin Trains, and the New York MTA.