CoSLA's Eckton is SEStran's new chief
Latest People News from Local Transport Today 696
29 Apr 2016 (provided by Local Transport Today), Category: Transportation Planning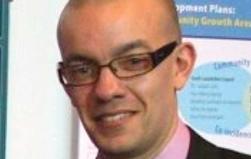 George Eckton (pictured) has been appointed partnership director of the South East Scotland Transport Partnership (SEStran), taking over from Alex Macaulay, who retired this week. Eckton is currently chief officer – development, economy and sustainability team, at the Convention of Scottish Local Authorities (CoSLA). From 2006 to 2009 he was a strategic planner at Renfrewshire Council. He takes up his new post on 1 June.
Bird retires from Essex
Paul Bird has retired as Essex County Council's director of highways and transportation. He is now an independent consultant in highways, transport and infrastructure.
Scriven leads Nextbike UK
Julian Scriven has been appointed managing director of public bike hire firm Nextbike UK, succeeding Rob Grisdale (LTT 15 Apr). Scriven founded Caveat Consulting, and was managing director of Rock Choir until December 2015.
Howlison is HE's new finance chief
Highways England has appointed Vanessa Howlison as its chief financial officer. She joins from the DfT, where she was finance director.
Wild is Underground's new chief
Transport for London has appointed Mark Wild managing director of London Underground, starting in June. Wild resigned as chief executive of Public Transport Victoria in Australia last September after 22 months in post. He is currently a special adviser to the minister and secretary of The State Government of Victoria. In a transport career spanning almost 30 years, he has held management positions with Westinghouse Rail Systems Ltd and was managing director of Invensys Rail from 2009 to 2010. Educated at the University of Leeds, he has worked on signalling for London's Jubilee and Victoria lines. Nick Brown, TfL's interim managing director for London Underground and London Rail, has left TfL. London Underground finance director Andrew Pollins is interim managing director of LU until Wild's arrival.
Simpson & Andrew promoted at Landor
Daniel Simpson has been promoted to commercial director of Landor Links, the owner of Local Transport Today. Justin Andrew has been promoted to become lead designer and operations manager. Ben Davies is leaving his post as LTT sales & marketing executive to join Uber as a marketing assistant – partnerships and events.