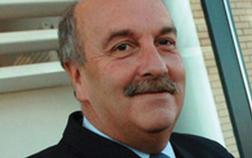 David Martin (pictured) has been appointed chairman of FirstGroup, succeeding Wolfhart Hauser, who resigned this summer (LTT?05 Jul). Martin was chief executive of Arriva from 2006 to 2016, a period that saw the company (owned by Deutsche Bahn from 2010) become a multi-national transport group through mergers and acquisitions. Martin joins as FirstGroup pursues a new strategy, announced on 30 May, that will see it separate its UK bus business from the rest of the business, and increasingly focus on its North American market. FirstGroup's activist investor Coast Capital had proposed to appoint Martin to First's board as part of a failed boardroom coup this summer. FirstGroup said this week that Martin had "extensive knowledge of international transport contract businesses and in delivering strategic transactions, including disposals". Martin said: "I am pleased to be joining FirstGroup at a key point in its development. Undoubtedly there are challenges that we must overcome, but I am confident in the opportunity that exists to unlock the considerable value within the group."
Rigby moves to TfL's consulting arm
Helen Rigby has joined TfL's commercial consulting and international operations division as a managing consultant. She was a principal transport planner in TfL's city planning team.
Schlebusch leaves Nextbike
Sebastian Schlebusch has left his position as head of international development at bike hire firm Nextbike.
Jenrick champions Midlands Engine
Robert Jenrick, the local government secretary and MP for Newark, has been named ministerial champion for the Midlands Engine, the area covered by non-statutory sub-national transport body Midlands Connect.
Cassells is TAG's new?president
Andrew Cassells is the new president of the Local Government Technical Advisers Group, succeeding John Lamb. Cassells is director of environment & property at Mid Ulster Council in Northern Ireland. Andy Oates has been promoted to an associate partner with consultant i-Transport. Jamie Narborough has been promoted to principal consultant. Ben Burrows has been promoted to senior consultant and Lauren Catterall to senior consultant. Momentum Transport Consultancy has promoted Natasha Brown and Dave Murphy to associates, and Claudio Borsari to a principal consultant.