Cycle City Leeds
1-2 May 2014 | Leeds
3 Mar 2014 (provided by Landor LINKS), Category: Active Travel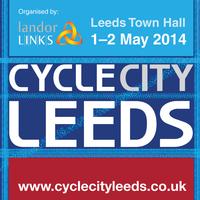 Cycle City Leeds is the successor to the ground breaking Cycle City Birmingham 2013 event, for all those working to encourage Dutch levels of cycling in Britain.

Town and cities with high levels of cycling are fit, fun and work for people. This event shows how we get from potential to reality.
The focus of Cycle City Leeds is utility cycling, and the aim is for the people in government, employers, third sector, consultancies, suppliers and public health bodies involved in designing infrastructure and promotion of cycling, to discuss and develop strategies to get more people cycling more safely in British cities.
What are the barriers to cycling, and how can we overcome them?

What infrastructural investments do we need?

How can we make cycling in cities safer?

What are the health benefits of cycling, and how can we get the message across?

What is the best practice from Europe, and how can we apply this to UK cities?
Come along for practical workshops, expert seminars, inspiring talks and networking opportunities. Visit the exhibition. Join study tours. Celebrate what works, share what doesn't. Learn how cycle development makes an effective difference. Leave better informed and better prepared to develop cycling in your locality.
View delegate rates