Good communication is key when you're a freelancer
27 Jul 2016 (provided by Local Transport Today), Category: Transportation Planning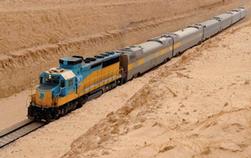 Going freelance as a transport planner can involve a big step into the unknown, even for those with many years experience. It can also require new skills to allow the transition to a different way of life. 
Just ask Gary Mogan, who spent 32 years in operational control for British Rail, Railtrack, and Network Rail before being made redundant in 2011. His job had involved working out why things go wrong in the rail industry. Mogan went from doing this to becoming senior quality manager for the Saudi Arabian high-speed rail Landbridge project, which represents the first rail link between the Red Sea and the Gulf.
He describes working on the project as something of a culture shock. Prior to taking the role, Mogan was appointed safety advisor to the president of the Saudi Arabian rail organisation and found that, despite a boom in transport investment, the safety record was extremely poor.
And when he became involved in the Landbridge project he found that half the plans did not exist, and "so they asked me to write them". 
This, he said, took him out of his comfort zone. "The company had huge resources that were not being used. I downloaded 300 standards they needed for construction of the route, and wrote the plan on how to do it, but although $10bn had been allocated to the project, the length of the proposed line kept altering, and they didn't have the know-how to turn the plans into reality. It was good experience in terms of working from the ground up, but there were many political and bureaucratic machinations."
Mogan appreciated the independence and flexibility of working as a freelance, but came to understand the importance of good communication in this type of work. 
"In Saudi Arabia communication could be limited. You do have to transform your lifestyle. At times it can be difficult to understand what's being required of you. It's not just about providing a basic service. As a freelance, you have to understand the full implications, and realise that the customer does not necessarily know what they want. 
"In turn, you can't be one hundred per cent certain what they need to know, but then you do have to be certain about how to deal with the situation. Cognitive barriers can build up and need to be bridged, and all the contractors have to be on the same wavelength. There is also the bottom line of what people will actually pay for. Will they pay for all the time and knowledge required, or do they just want basic help?" 
In order to improve communication, Mogan found in Saudi Arabia that unorthodox thinking could pay off: "One of the biggest successes I had was in organising a five-a-side football tournament. It brought together a wide range of nationalities, and barriers broke down. This helped in tackling work problems. Coming in as a freelance enabled me to facilitate this, and I could act as a change element."
At the same time, Mogan considers the five-a-side experience also illustrates the limitations of employing a large number of freelancers. "If you have too many freelancers, who are only there for a short time, then it can be difficult to build social interaction. You need to build long-term understanding, which doesn't happen with freelancers, and communication barriers can build up."
Mogan would advise freelancers generally to, "Say 'yes' until you have to say 'no.'
"I wouldn't have realised that I could write a $1bn project until I was asked to do it. You have to have the self-confidence to take the step into the unknown. You also need to learn diplomatic skills, and how to express things clearly. In this context, you have to be utterly impartial. This means that at some point you may have to tell them that things just won't work, and that their requirements are not possible. Diplomacy can be vital here." 
He adds: "Wherever you go, you are always an outsider, and the subtext of freelancing is breaking down barriers, while always maintaining impartiality." 
Gary Mogan is senior quality manager for the Saudi Arabian high-speed rail Landbridge project, which represents the first rail link between the Red Sea and the Gulf